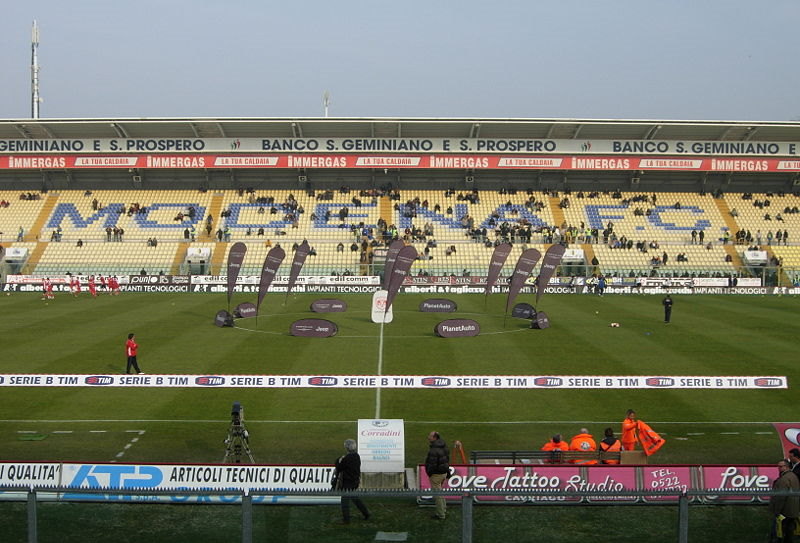 Key facts
Club: Modena FC | Opening: 1936 | Capacity: 21,151 seats
History and description
Stadio Alberto Braglia opened on 11 October 1936 with a match between Modena and Cremonese (0-0).
The stadium was first named after Cesare Marzari, an ex-player who had died in the African War, but was renamed after the Second World War in honour of three-time Olympic gold medal winner Alberto Braglia, child of the city.
Hardly any changes were made to the stadium until the turn of the millennium when an extensive redevelopment program was presented.
Works started with the rebuilding of one of the ends, followed by the removal of the running tracks, the construction of additional rows of seating closer to the pitch, and the renovation of the other three stands.
The third stage of the works, completed in 2006, included the installation of a roof. A few further upgrades in the following year completed the project.
Stadio Alberto Braglia was between 2008 and 2013 the home of Sassuolo Calcio as they lacked proper facilities in their home town. In 2013, after Sassuolo promoted to Serie A, they moved to Reggio Emilia to play at MAPEI Stadium – Città del Tricolore.
In 2015, Carpi used the stadium as their home during their one Serie A season as their own home, Stadio Sandro Cabassi, did not meet league standards.
How to get to Stadio Alberto Braglia
Stadio Alberto Braglia is located in the centre of Modena, right next to the railway station and at a few minutes walking from the historic city centre.
If coming by car from the A1 motorway, take exit Modena Nord and turn onto the ring road (Tangenziale) in the direction of the city centre (centro). Follow for about 5 kilometres and take exit 10 to the centre. Continue toward the centre and, after having crossed the railroad tracks, follow the signs for Stadio.
Address: Viale Monte Kosica 128/134, 41121 Modena
Modena Tickets
Tickets for Modena matches can be bought at the branches of local bank BPER Banca, or at one of various other sales outlets including Tabaccheria Sant'Agostino at Via Emilia Centro 224 in the city centre close to the stadium.
Tickets can also be bought at the ticket windows of the stadium on the day of the match. Modena hardly ever sell out.
Prices range from € 15.00 for a seat behind the goal to € 40.00 for the best seats at the main stand.
Useful Internet links
Modenafc.net – Official website of Modena FC.
Modena.it – Official tourism website for the city of Modena.
Photo credits: Siboni